重新加载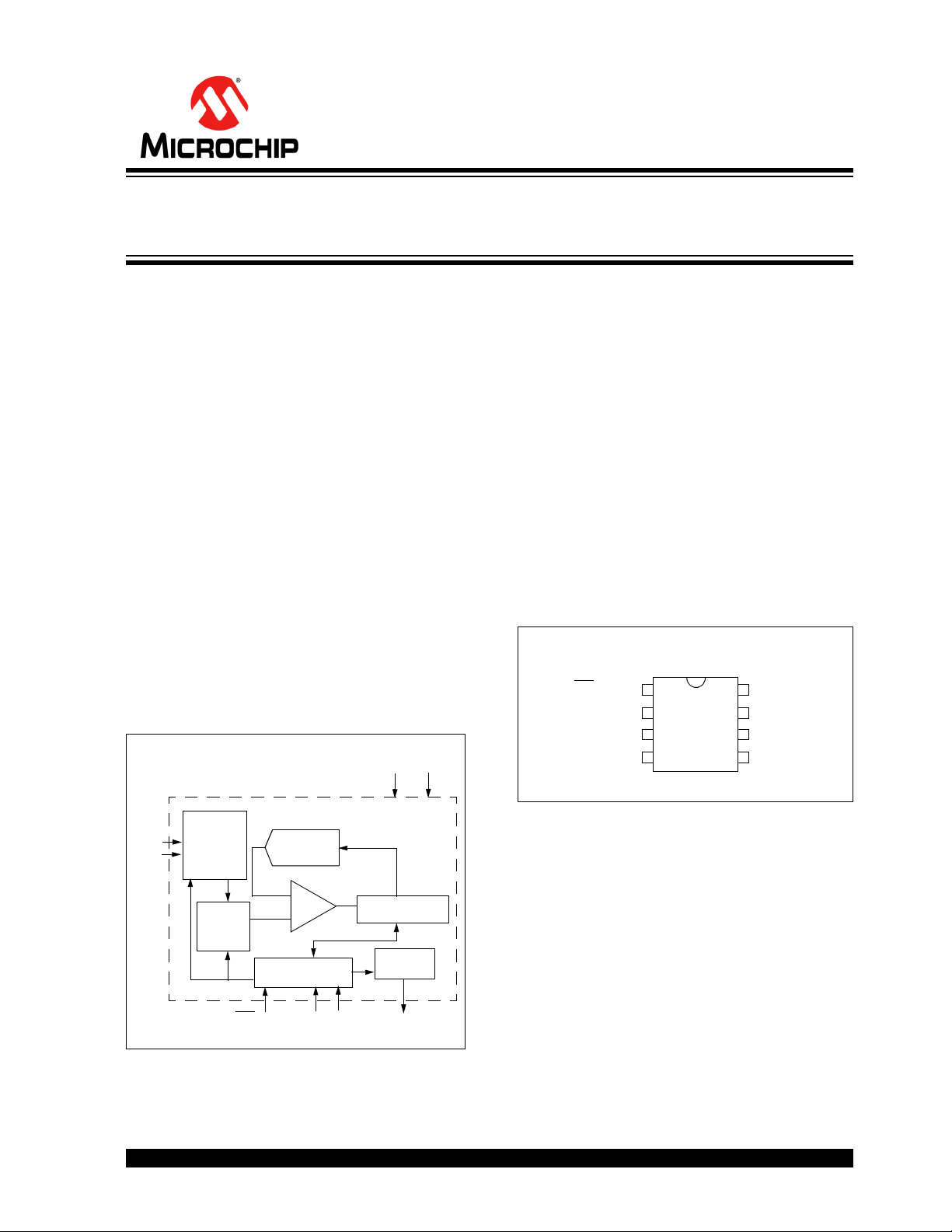 
2000-2011 Microchip Technology Inc.

DS21294E-page 1
MCP3002
•
Analog inputs programmable as single-ended or
pseudo-differential pairs
•
On-chip sample and hold
•
SPI serial interface (modes 0,0 and 1,1)
•
Single supply operation: 2.7V - 5.5V
•
200
ksps max sampling rate at V
DD
= 5V
•
75
ksps max sampling rate at V
DD
= 2.7V
•
Low power CMOS technology:
-
5
nA typical standby current, 2
µA maximum
-
550
µA maximum active current at 5V
•
Industrial temperature range: -40°C to +85°C
•
8-pin MSOP, PDIP, SOIC and TSSOP packages
Applications
•
Battery Operated Systems
Functional Block Diagram
The MCP3002 is a successive approximation 10-bit
analog-to-digital (A/D) converter with on-board sample
and hold circuitry.
The MCP3002 is programmable to provide a single
pseudo-differential input pair or dual single-ended
inputs. Differential Nonlinearity (DNL) and Integral
Nonlinearity (INL) are both specified at ±1
LSB. Com-
munication with the device is done using a simple serial
interface compatible with the SPI protocol. The device
is capable of conversion rates of up to 200
ksps at 5V
The MCP3002 operates over a broad voltage range,
2.7V to 5.5V. Low-current design permits operation with
a typical standby current of 5
nA and a typical active
The MCP3002 is offered in 8-pin MSOP, PDIP, TSSOP
and 150
mil SOIC packages.
Package Types
Comparator
Sample
and
Hold
10-Bit SAR
DAC
Control Logic
V
SS
V
DD
OUT
Shift
Register
CH0
Channel
Mux
Input
CH1
D
IN
MCP3002
1
2
3
4
8
7
6
5
CH0
CH1
V
SS
V
DD
/V
REF
CLK
D
OUT
D
IN
MSOP, PDIP, SOIC, TSSOP
2.7V Dual Channel
10-Bit A/D Converter
with SPI Serial Interface