重新加载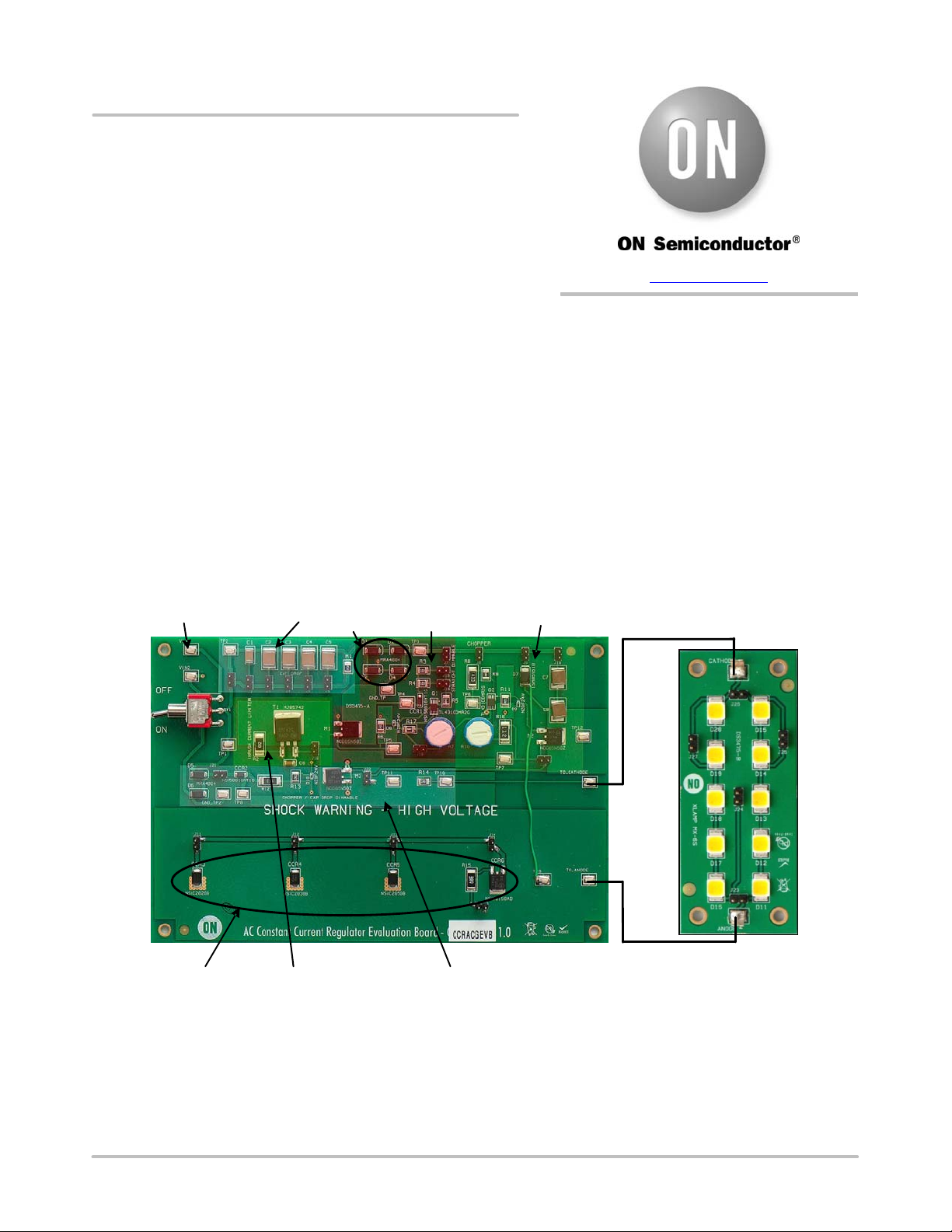 ©
Semiconductor Components Industries, LLC, 2015
1
Publication Order Number:
EVBUM2176/D
CCRACGEVB
An AC LED Lighting
Evaluation Board Using
Constant Current
Regulators (CCR)
Evaluation Board User's
Manual
Six Different Circuit Topologies Covering
Smallest Bill of Materials to Widest Input
Voltage: 12 VAC to 250 VAC.
Introduction
Engineers
developing solid-state lighting control systems
need to balance circuit efficiency, power factor (PF), total
harmonic distortion (THD), total cost of bill of materials
(BOM) and input voltage range to cover large geographic
regions and aesthetics to satisfy different customer
requirements. The CCRACGEVB allows engineers to
evaluate six different topologies as they approach this
difficult balancing act.
The CCRACGEVB (see Figure 1) has an input voltage
range of 12 VAC to 250 VAC and showcases the
NSIC20x0JBT3G series of 120 V CCRs and the
NSI50150ADT4G (150 – 350
mA Adjustable) CCR. It has
circuit topologies for "Straight LED Driving", "Capacitive
Drop LED Driving" and "Chopper LED Driving", all with
and without dimming by typical triac dimmers. It has a
simple
current inrush limiting circuit to suppress the impact
of initial high inrush currents and power spikes.
Figure 1. CCR AC Evaluation Board − CCRACGEVB
Input
Bridge
Dimmer circuit
for Straight
Chopper
CCRs
Inrush Current Limiter
Dimmer circuit for Chopper and Cap
www.onsemi.com
EVAL BOARD USER'S MANUAL