重新加载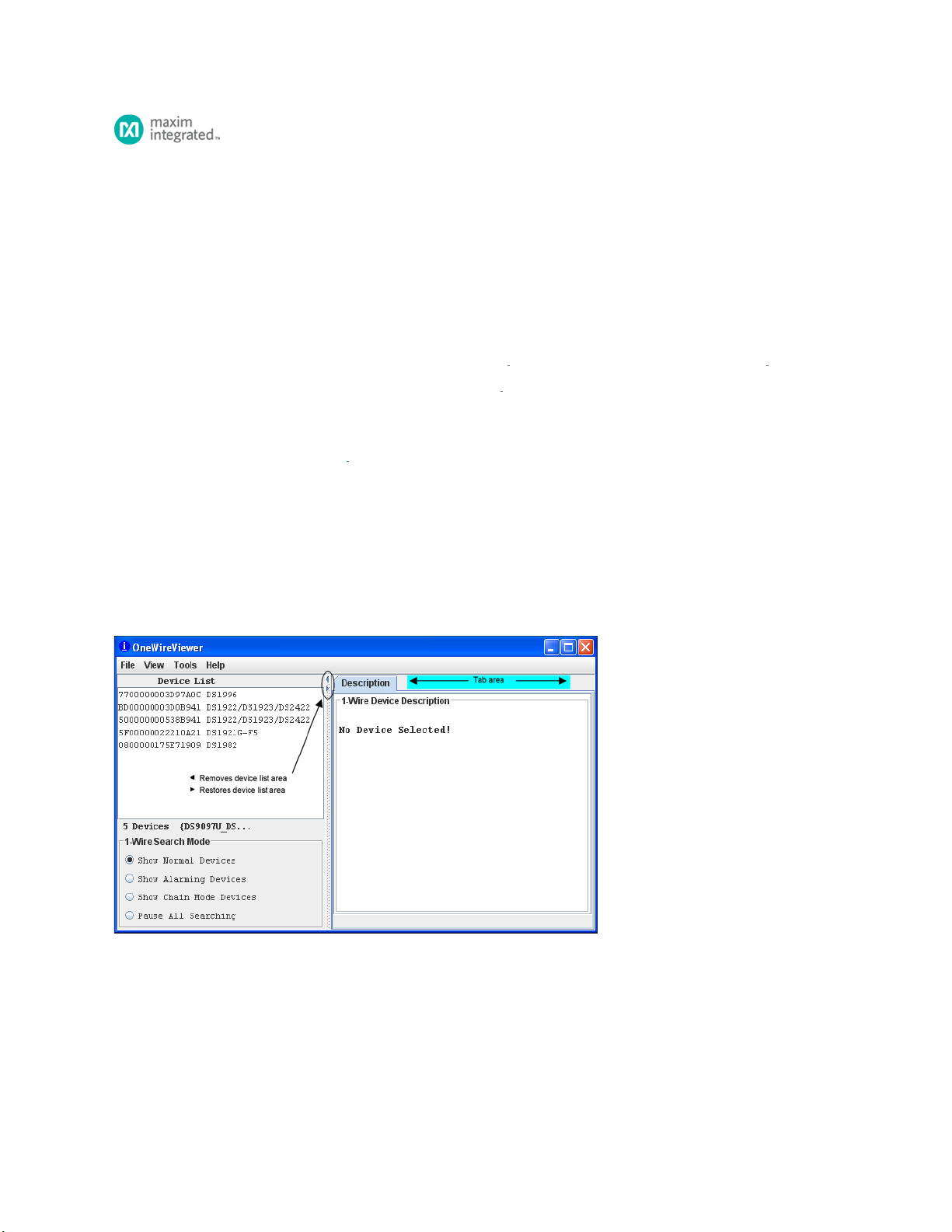 Maxim
>
Design Support

>

Technical Documents

>

User Guides

> APP 3358
Keywords:
onewireviewer, 1-wire,ibutton, onewire, viewer, software, evaluation, eval kit, java, web start, webstart, user's guide, manual, howto, debugging
USER GUIDE 3358
OneWireViewer User's Guide, Version 1.5
By:
Bernhard Linke, Principal Member Technical Staff
Sep 25, 2009
Abstract:
This User's Guide explains
the OneWireViewer software program and how it can be used to evaluate the unique features of 1-Wire® and iButton®
Introduction
The OneWireViewer is a Java™-based software package to explore Maxim's 1-Wire and
i
Button devices with a personal computer. The 1-Wire and
i
Button devices
communicate over a single data line plus ground reference, using the 1-Wire protocol. Several 1-Wire adapters are available for USB and serial ports. The
OneWireViewer provides a user interface to evaluate the unique features of 1-Wire and
i
Button products, including Thermochron® (temperature logging),
Hygrochron™ (real-time temperature and humidity), A to D (analog to digital), clock, memory, and file operations.
Installation
Refer to application note 4373, "
OneWireViewer and

i

Button® Quick Start Guide
" for the installation instructions for the 1-Wire Drivers, which also install the
OneWireViewer. For additional/expanded help, see application note 5057, "
OneWireViewer Tips and Tricks
," starting with the section
Identifying the System
.
Uninstalling
Refer to the application note 5057, "
OneWireViewer Tips and Tricks
," section
How to Install a Newer OneWireViewer Version
.
Program Main Window
The main window of the OneWireViewer consists of four areas:
Device List
(top left),
1-Wire Search Mode
(bottom left), Tab area (to the right) and menus (top
row). The width of the device list/search mode area can be adjusted by horizontally moving the vertical scroll bar that separates these areas from the tab area. The
Device List/1-Wire Search Mode areas can be removed/restored by clicking on one of the tiny triangles to the right of the device list.
Viewer Menus
File
Has a subtitle Alt-1 (instead of Alt+F4). The Program will end with Alt+F4 as well as Alt+1. The '1' must be pressed on the normal keypad, not the numeric keypad,
to be accepted.
View
Show Message Log
(to read error messages)
Opens a new window that displays a device access log and error messages.