重新加载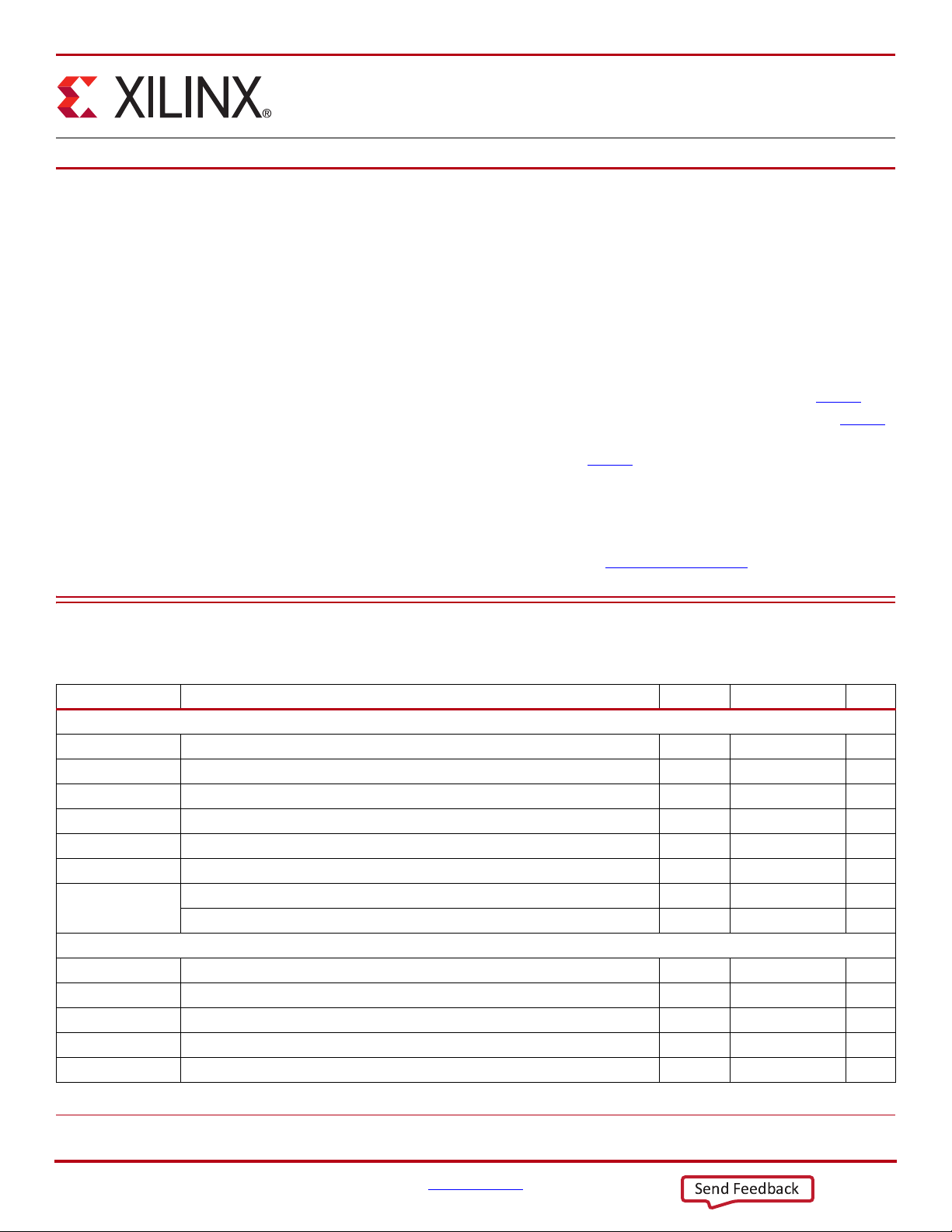 DS187 (v1.17) November 24, 2015
www.xilinx.com
© Copyright 2011–2015 Xilinx, Inc. Xilinx, the Xilinx logo, Zynq, Virtex, Artix, Kintex, Spartan, ISE, Vivado and other designa
ted brands included herein are trademarks of Xilinx
in the United States and other countries. AMBA, AMBA Designer, ARM, Cortex-A9, CoreSight, Cortex, PrimeCell, ARM Powered, and A
RM Connected Partner are trademarks
of ARM Ltd. All other trademarks are the property of their respective owners.
Introduction
The Zynq®-7000 All Programmable SoCs are available in
-3, -2, -1, and -1LI speed grades, with -3 having the highest
performance. The -1LI devices can operate at either of two
programmable logic (PL) V
CCINT
/V
CCBRAM
voltages, 0.95V
and 1.0V, and are screened for lower maximum static
power. The speed specification of a -1LI device is the same
as the -1 speed grade. When operated at PL
V
CCINT
/V
CCBRAM
= 0.95V, the -1LI static and dynamic
power is reduced. Zynq-7000 device DC and AC
characteristics are specified in commercial, extended,
industrial and expanded (Q-temp) temperature ranges.
Except for the operating temperature range or unless
otherwise noted, all the DC and AC electrical parameters
are the same for a particular speed grade (that is, the timing
characteristics of a -1 speed grade industrial device are the
same as for a -1 speed grade commercial device). However,
only selected speed grades and/or devices are available in
the commercial, extended, industrial, or Q-temp
temperature ranges.
All supply voltage and junction temperature specifications
are representative of worst-case conditions. The
parameters included are common to popular designs and
typical applications.
The available device/package combinations are outlined in:
•
Zynq-7000

All Programmable SoC Overview (

DS190

)
•
XA

Zynq-7000

All Programmable SoC Overview (

DS188
)
•
Defense-grade Zynq-7000Q

All Programmable SoC
)
This Zynq-7000
AP
SoC data sheet, which covers the
specifications for the XC7Z010, XA7Z010, XC7Z015,
XC7Z020, XA7Z020, and XQ7Z020, complements the
Zynq-7000
AP
SoC documentation suite available on the
Xilinx website at
www.xilinx.com/zynq
.
DC Characteristics
Zynq-7000
All Programmable SoC
(Z-7010, Z-7015, and Z-7020):
DC and AC Switching Characteristics
DS187 (v1.17) November 24, 2015
Product Specification
Table 1:
Absolute Maximum Ratings
(1)
Symbol
Description
Min
Max
Units
Processing System (PS)
V
CCPINT
PS internal logic supply voltage
–0.5
1.1
V
V
CCPAUX
PS auxiliary supply voltage
–0.5
2.0
V
V
CCPLL
V
CCO_DDR
PS DDR I/O supply voltage
–0.5
2.0
V
V
CCO_MIO
(2)
PS MIO I/O supply voltage
–0.5
3.6
V
V
PREF
PS input reference voltage
–0.5
2.0
V
V
PIN
(2)(3)(4)(5)
PS MIO I/O input voltage
–0.40
V
CCO_MIO
PS DDR I/O input voltage
–0.55
V
CCO_DDR
Programmable Logic (PL)
V
CCINT
PL internal supply voltage
–0.5
1.1
V
V
CCAUX
PL auxiliary supply voltage
–0.5
2.0
V
V
CCBRAM
PL supply voltage for the block RAM memories
–0.5
1.1
V
V
CCO
PL supply voltage for HR I/O banks
–0.5
3.6
V
V
REF
Input reference voltage
–0.5
2.0
V