重新加载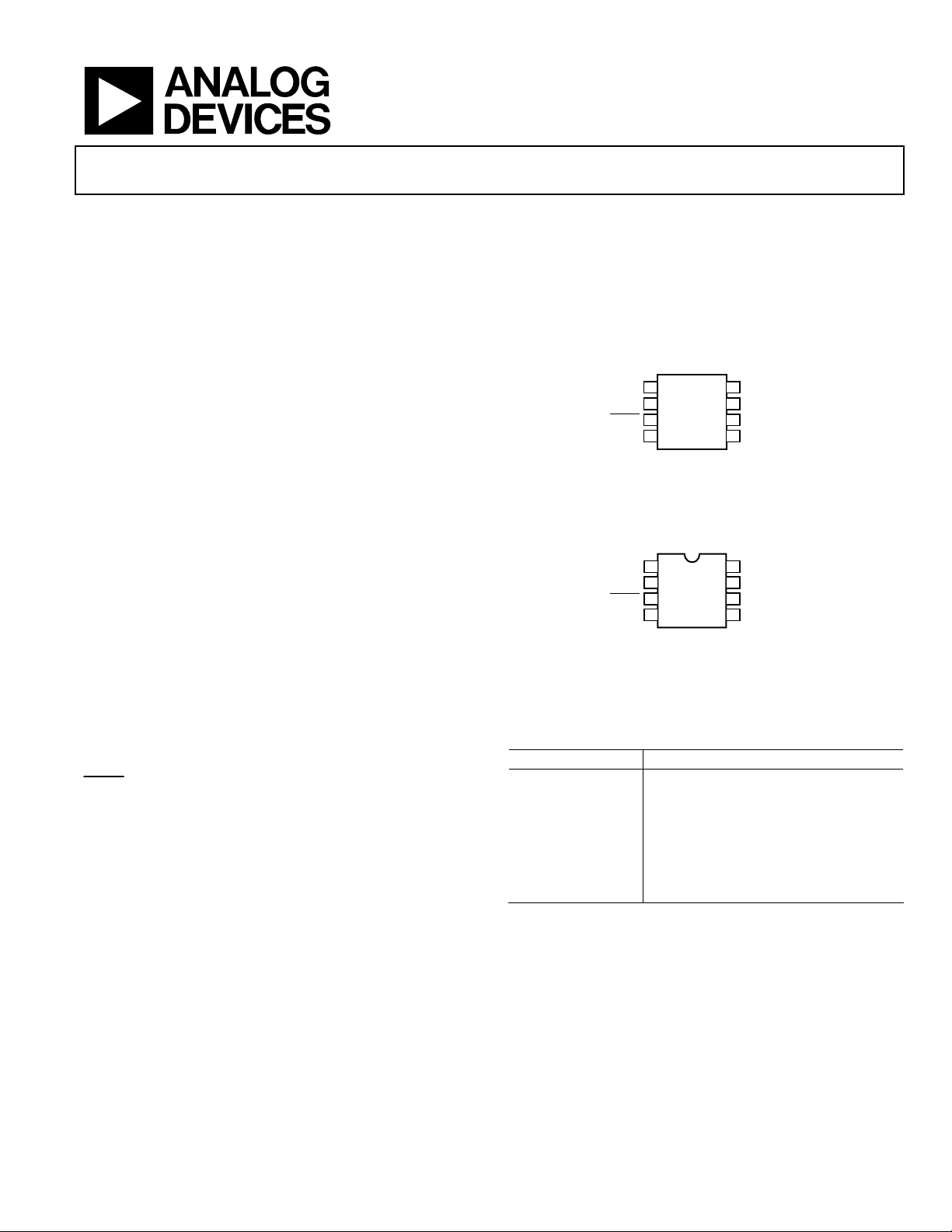 Precision Micropower,
Low Dropout Voltage References
Data Sheet
REF19x Series
Rev. L
Information furnished by Analog Devices is believed to be accurate and reliable. However, no
responsibility is assumed by Analog Devices for its use, nor for any infringements of patents or other
rights of third parties that may result from its use. Specifications subject to change without notice. No
license is granted by implication or otherwise under any patent or patent rights of Analog Devices.
Trademarks and registered trademarks are the property of their respective owners.
One Technology Way, P.O. Box 9106, Norwood, MA 02062-9106, U.S.A.
Tel: 781.329.4700
www.analog.com
Fax: 781.461.3113
©1996–2011 Analog Devices, Inc. All rights reserved.
FEATURES
Temperature coefficient: 5 ppm/°C maximum
High output current: 30 mA
Low supply current: 45 μA maximum
Initial accuracy: ±2 mV maximum
1
Sleep mode: 15 μA maximum
Low dropout voltage
Load regulation: 4 ppm/mA
Line regulation: 4 ppm/V
Short-circuit protection
APPLICATIONS
Portable instruments
ADCs and DACs
Smart sensors
Solar powered applications
Loop-current-powered instruments
GENERAL DESCRIPTION
The REF19x series precision band gap voltage references use a
patented temperature drift curvature correction circuit and
laser trimming of highly stable, thin-film resistors to achieve a
very low temperature coefficient and high initial accuracy.
The REF19x series is made up of micropower, low dropout
voltage (LDV) devices, providin
g stable output voltage from
supplies as low as 100 mV above the output voltage and
consuming less than 45 μA of supply current. In sleep mode,
which is enabled by applying a low TTL or CMOS level to the
SLEEP
pin, the output is turned off and supply current is
further reduced to less than 15 μA.
The REF19x series references are specified over the extended
industrial temperature range (−40°C to +85°C) with typical
performance specifications over −40°C to +125°C for
applications, such as automotive.
All electrical grades are available in an 8-lead SOIC package; the
PDIP and TSSOP packages are available only in the lowest
electrical grade.
TEST PINS
Test Pin 1 and Test Pin 5 are reserved for in-package Zener zap.
To achieve the highest level of accuracy at the output, the Zener
zapping technique is used to trim the output voltage. Because
each unit may require a different amount of adjustment, the
resistance value at the test pins varies widely from pin to pin
and from part to part. The user should leave Pin 1 and Pin 5
unconnected.
REF19x
SERIES
TOP VIEW
(Not to Scale)
TP
1
V
S
2
SLEEP
3
GND
4
NC
NC
OUTPUT
TP
8
7
6
5
00371-001
NOTES
2.
TP PINS ARE FACTORY TEST
POINTS, NO USER CONNECTION.
Figure 1. 8-Lead SOIC_N and TSSOP Pin Configuration
(S Suffix and RU Suffix)
REF19x
SERIES
TOP VIEW
(Not to Scale)
TP
1
V
S
2
SLEEP
3
GND
4
NC
NC
OUTPUT
TP
8
7
6
5
00371-002
NOTES
2.
TP PINS ARE FACTORY TEST
POINTS, NO USER CONNECTION.
Figure 2. 8-Lead PDIP Pin Configuration
(P Suffix)
Table 1. Nominal Output Voltage
Part Number
Nominal Output Voltage (V)
1
Initial accuracy does not include shift due to solder heat effect (see the
Applications Information section).