重新加载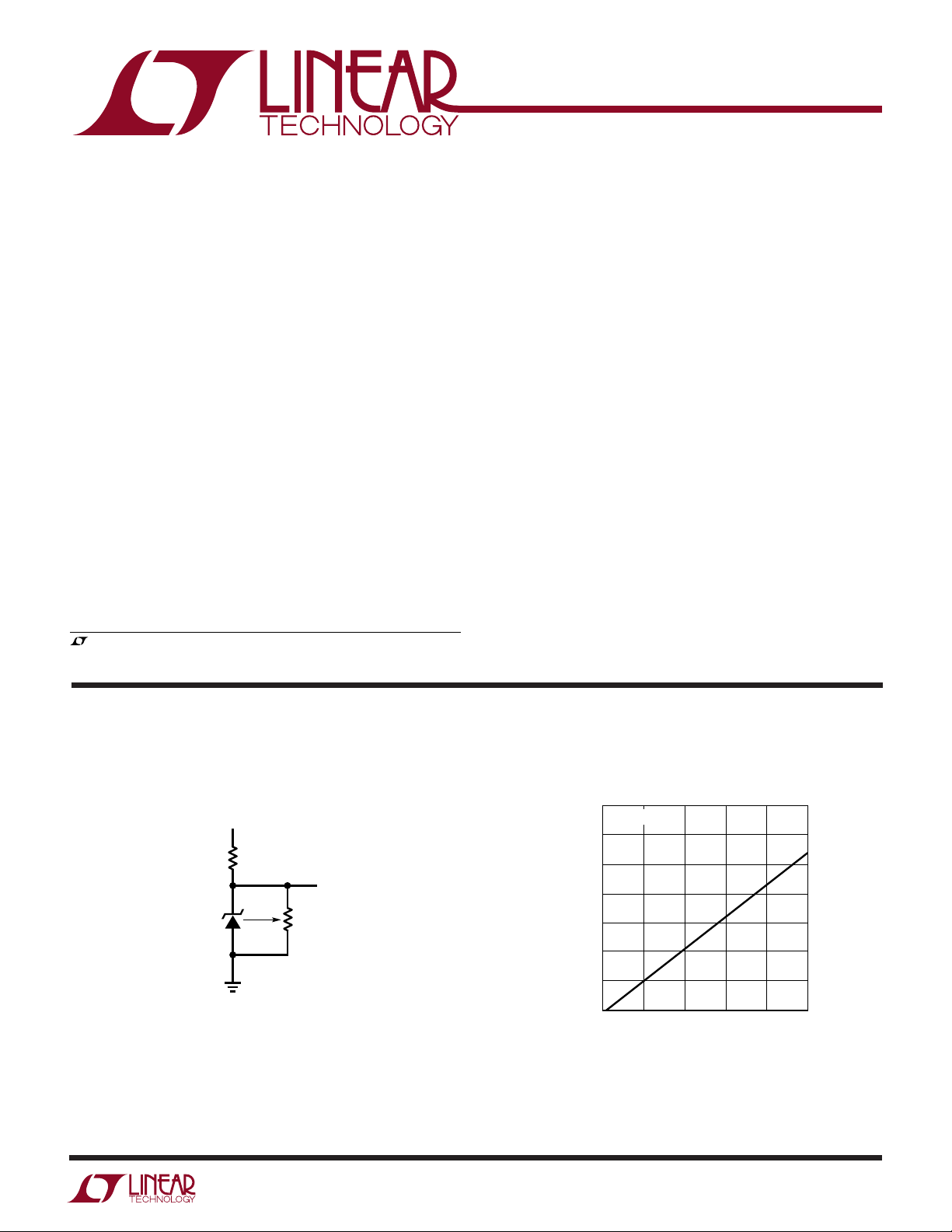 1
LM136-2.5/LM336-2.5
APPLICATIO S
U
FEATURES
DESCRIPTIO
U
TYPICAL APPLICATIO
U
■
Reference for 5V Systems
■
8-Bit A/D and D/A Reference
■
Digital Voltmeters
■
Current Loop Measurement and Control Systems
■
Power Supply Monitor
■
Guaranteed
Temperature Stability
■
Maximum 0.6
Ω
Dynamic Impedance
■
Adjustable for Minimum Temperature Coefficient
■
Wide Operating Current Range
2.5V Reference
The LM136-2.5 is a general purpose shunt regulator diode
designed to operate over a wide current range while
maintaining good stability with time and temperature. The
third terminal allows either the temperature coefficient to
be minimized or the reference voltage to be adjusted
without changing the temperature coefficient. Because it
operates as a shunt regulator it can be used equally well as
a positive or negative reference.
The LM136-2.5 is available with initial tolerances as low as
1% in either a TO-46 metal can for hermetic requirements
or a low cost TO-92 plastic package.
Linear's advanced design, test and process techniques
have optimized the LM136-2.5 to achieve superior perfor-
mance and reliability over previous designs. For more
demanding precision reference applications requiring very
low initial tolerance and temperature coefficients, consult
the LT1009 data sheet. A typical 2.5V reference with trim
is shown below.
, LTC and LT are registered trademarks of Linear Technology Corporation.
136/336 TA01a
5V TO 35V
3.6k
10k*
TRIM
LM336-2.5
OUTPUT
*DOES NOT AFFECT
TEMPERATURE
COEFFICIENT
REVERSE CURRENT (mA)
0
3.5
3.0
2.5
2.0
1.5
1.0
0.5
0
6
136/336 TA01b
REVERSE VOLTAGE CHANGE (mV)
T
A
2.5V Reference
Reverse Voltage Change